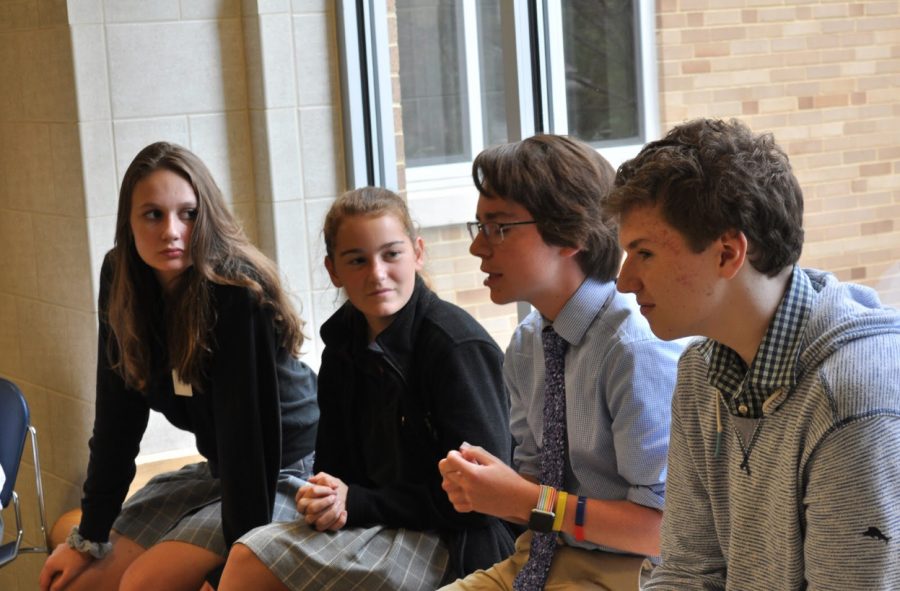 Look out, Sallies; Salesianum School Theatre is back at it again with its fall production, Metamorphoses. Not only are the usual great directors and dedication being brought to the first show of the new year, but this play is very unique. Why? "Well, we have a pool," says sophomore Aidan Keener. Yes indeed, the show is centered around a pool being constructed in the middle of the theatre. "The play is about change," remarks junior Jake Poppiti. "Water, like fire, earth, and air, is one of the fundamental elements within Greek society. The thing about water is that it's able to change its state, into ice or gas. We characters all revolve around that change, so, like the water, we manipulate and change with it."
On top of the aura surrounding the novelty of a pool in the theatre, Mr. Bogad says that he believes the show will be special because of the seniority of the cast, since most, if not all, of the cast has had SST experience in some form. He believes that this will be a tough play to put on, but he has full faith in what this cast can do. The actors in this play, as usual, are trying to challenge our views through their wonderful storytelling. For this show in particular, the play is told through a series of Greek myths that revolve around the pool being built.
SST is really putting their heart and souls into this show, and it really shows in their relationships both inside and outside this show. Senior Aidan O'Neill tells this reporter that "theatre, as an art form, has a way of unifying a group of people. It takes a complete commitment in a way that is incomparable to anything I've ever done. To get together and put on a show show that has meaning and challenges and the very act of going through that together also has the effect of bringing everyone together. It's like a self-catalysing relationship between being good friends and putting on good shows."
The cast also believes the relationships formed at SST are strong and unique. "It's very interesting that there is a space where we can all come together," says Padua junior Jessica Classen. "I feel like it's good that in the theatre, there is a space where we can all be together, so I feel like that's interesting because without it, I wouldn't have connections with Ursuline girls or have friends there."
So, in conclusion, why should people come see Metamorphoses, which is showing November 2-4? Senior Anthony Denney says it best: "Why the heck not?" Why the heck not indeed!