All I Want for Christmas is Music
As November arrives and Spirit Week music blares the Christmas music debate has begun
The time that Christmas music is allowed to begin has been debated since the very beginning of Christmas music. Does it start after Halloween? After Thanksgiving? Does it ever end? People all over the Christmas-celebrating world get fired up about their view of when Christmas music is allowed to start. Below we have some very strong opinions on the start of Christmas music.
Ajay Patel '20: There are many two significant holidays before Christmas — Halloween and Thanksgiving. These two big holidays should be enjoyed to their full extent and should not be spoiled by Christmas music. Life should be lived in the present moment and looking forward to a holiday that is happening so far away is unhealthy. If Christmas music started around Halloween, you do not get to focus solely on Halloween, and these holidays deserve respect. Christmas music should start on Black Friday because that is the time that people start buying presents for their loved ones, Thanksgiving is over, and there is no major holidays between Black Friday and Christmas that can cloud the glory of the other holidays.
Mr. Jackman: I can already tell that this conversation is going to have absolutely no reasoning rooted in the Catholic faith. With that said, the correct answer is Black Friday until the last bite is taken at dinner on Christmas Day. There is one exception, Mariah Carey's All I Want for Christmas is You is to be played year round. The Christmas tree (fake, of course) stays up a few more days. With all that said, the real question should be, "when should one begin watching Elf, A Christmas Story, Christmas Vacation, and Home Alone?"
Matthew Skorup '19: Michael Bublé and ghosts go together as well as turkeys and candy canes. The Holidays happen in a natural order and to deny such an order would be insane. While the stores may have started their Christmas blitz, when was the last time we trusted retailers and marketers as reputable sources. It is necessary to to give attention to each holiday, and while Christmas may be everyone's favorite, it should not encroach upon Halloween or Thanksgiving. Christmas music should not start any earlier than the day after Thanksgiving.
Braedon Carney '20: has the exact opposite stance of the previously mentioned gentlemen. Christmas music should be played 24/7, 365 days a year. The best music is Christmas music. Hallmark Christmas Movies are the pinnacle of film and storytelling. Christmas season should be made the official 5th season of the year. Fall, Winter, Christmas, the rest of Winter, Spring, Summer, and Christmas in July. Christmas, aka Michael Bublé season, brings us some of the best music in our culture all at the same time. All in all, the Christmas season is the undisputed best time of the year, so it should be around for the whole year.
Brendan Fink '19: Christmas music does have its time and place, but this timeline is different for everyone. If you're listening to it before Thanksgiving, as long as no one can hear it, you're fine. However, once Santa rolls by in the Macy's Parade, blast that music full volume until New Year's Day. Once the ball drops at Time Square, Christmas music should come to a screeching halt until next Thanksgiving.
Fr. Brian: This all likely stems from the vast differences between the cultural and religious definition on the start of Christmas. In the secular world, the Christmas season generally spans from Black Friday to Christmas Day, whereas the season of Christmas in the Catholic Church starts on Christmas Day and lasts until January 12, the baptism of Jesus. As an Advent defender and Christmas purist Christmas music should not start until the Catholic Christmas season begins (December 25), and if I'm feeling generous, I will keep it on until the presentation of the Lord, February 2. Yeah, you heard me, [I'm Catholic] because I believe in a thing called Advent!
Such an opinion has caused tension in the CFJ as each Christmas season arrives the ongoing battle between Mr. Ryan, Mr. Freebery, and Fr. Brian rages on. While many students wait in anticipation for Christmas break, Mr. Freebery and Mr. Ryan are busy putting Christmas decorations up each day only to have them quickly taken down and hidden by Fr. Brian.
Fun Fact: Fr. Brian comes to school to decorate CFJ on Christmas Day. We'll let that statement sink in.
Mr. Ryan and Mr. Freebery: We hereby present exhibit A to support our case.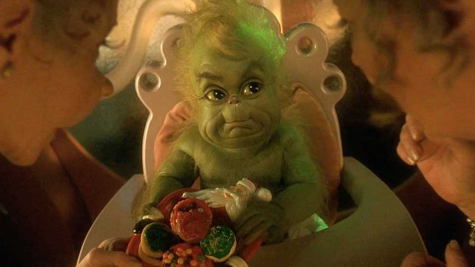 When do you think Christmas music should begin? Answer our poll.