Eliud Kipchoge's Two-Hour Marathon: Running Ahead of His Time
How Kipchoge engineered the human feat thought to be impossible, and why it won't go down in the record books
On Saturday, October 12, in Vienna, Austria, Kenyan runner Eliud Kipchoge crossed the finish line to be greeted by a wave of praise and accolades as he had become the first man to run a marathon in under two hours. This was a feat admired by people all around the world. The event was even being backed and supported by billionaires and the Kenyan President. This went as far as the President calling Kipchoge after the race to congratulate him. The feat was previously thought to be impossible, being one of the last athletic milestones left to attain. Perhaps what is more interesting is the way he was able to engineer everything. He was able to make the perfect conditions and circumstances to ensure he would make the mark. He was so confident that he created custom conditions to better enhance his record attempt. On top of the risky event planning, celebration proceedings for his amazing accomplishment began in Kenya before he even broke the record. Yet shockingly enough, his supposedly valiant effort won't ever be recognized in official record books. So the question is, how was he able to ensure his inevitable success? And why won't his work and effort be officially recognized?
The answer lies in the planning. It's a simple setup yet it's a brilliant one. It begs the question of how other people haven't thought of something that could guarantee such an esteemed goal. What Kipchoge did first was find a flat, closed six mile park course. By doing this, he made terrain, elevation, climate, and other conditions that may slow him down absent as it was like looping around a racetrack. This means he controlled the race course and manipulated it to be the absolute perfect place to break the record. He then got sneakers that are so good for running that they have been called into legality for official competitions and races. These sneakers are commonly called Vaporflys, and have been scientifically proven to make runners more efficient and run with less energy output and stress. The foam and small carbon fiber plates inside of the shoe recycles any exerted energy spent while running. This sort of shoe, people fear, may be an unfair advantage. The last major thing he did to ensure success was to make sure he kept on pace with the record. There were two things he did to keep up to pace with the feat. He had several pacemaker runners, otherwise referred to as "rabbits," to run at the world record pace constantly to show his progress. Rabbits changed in-and-out throughout the race to ensure that they didn't get fatigued while running at world record pace. On top of this, there was a car with a laser projecting a line representing where he would be if he were on pace for a two-hour marathon. This ensures that there is less human error in calculating where he needs to be in order to reach his goal. By artificially controlling and perfecting the running circumstances, it puts an asterisk on the feat. This asterisk would be that this attempt was like a controlled experiment in which the conditions were artificially manipulated for the sole purpose of testing the human boundaries. The feat is incredible and opens the gates for people to break the boundary in real marathon.
That being said, Kipchoge didn't run an official marathon. He would have had to run in circumstances where he couldn't have manipulated the conditions and the outcome of a race. He made an event where he broke a record and focusing on only his run. Contrarily, an actual marathon has a location that is chosen to be fitting for the public to participate in the race. If he ran an actual marathon, then he would be running with other participants, as well as running on a road with varying conditions. The manipulated and controlled conditions, as well as the very questionable legality of the potentially performance-enhancing shoes, are why he will never officially recognized for this feat. In the end, he achieved his goal of inspiring people to run and push the human boundaries by defying expectations. Eliud's impact was immediately felt when Kenyan woman Brigid Kosgei broke the women's marathon record at 2:14:04. This landmark record will go into the record books and is the first record of its kind in sixteen years. Salesianum cross country coach Michael Lo Sapio said, "It really shows that there are no limits to the human body per say, and that you can continue pushing the envelope through training, science, and nutrition." Overall, these events have brought new life and vigor to the world of long-distance running and should bring a new era of humans pushing the boundaries of speed and endurance.
About the Contributor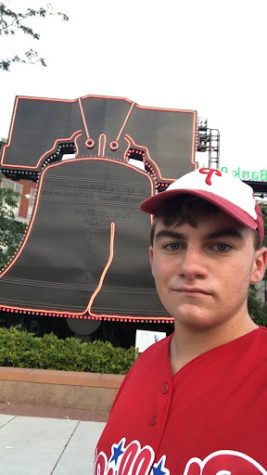 Alexander McCrystal, Journalist
Alex is a Senior who primarily writes about sports events and news, as well as analysis and overviews of various different topics. Alex plays ice hockey...