Sallies Football Postseason Preview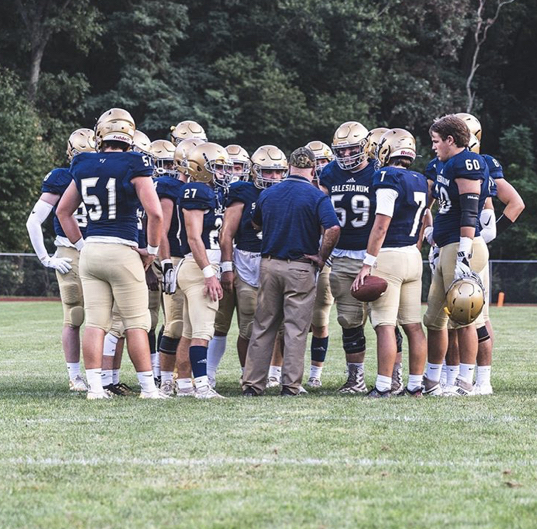 The 2019 Salesianum Football season can probably best be described as one with ups and downs throughout. While the Sals started out the year strong with a 3-0 start, they fell to 3-2 after playing against tough opponents in Smyrna and Episcopal Academy (PA). However, the golden helmets have finished with a 6-4 record and will be the 6th seed in the DIAA Division I Football Tournament. The team is looking to ride their momentum into their first round game against Smyrna after a 54-7 blowout win against St. Marks. "We definitely have a lot of confidence. Smyrna has a good team, but I think we have a lot of confidence from that win." sophomore Ryan Adams responded when asked about how important the win was to this team.
That St. Marks victory proved to be crucial for Salesianum, as it ended up earning the team the final spot in the playoffs. The Sals are no strangers to being the underdogs, as junior Pat Methlie said "We like having the role of the underdogs; it's like having a chip on your shoulder." Another chip on the team's shoulder is last season's loss against Sussex Central in the Championship. When I asked senior Ryan Haines on how the team looks to avenge that loss, he told me that "Last year, there were a lot of guys who were on the team, but this year, there are more people in bigger roles. So it's important to let them know about the loss so that we are able to come back stronger".
Keeping that loss in mind, the Sals have been working hard throughout the season in order to make it back to the University of Delaware Stadium. When I asked Coach DiNardo on if he expects the team's hard work to pay off, he responded by saying "There's no guarantee that we will win in a playoff game because of hard work, but it puts us in a good place. This team is battle-tested and we play a lot of good teams, so I believe that we will play hard throughout the game."
As Salesianum looks to win its first State Title in six years, they will definitely be a threat to any team that they face this November.