Verbal Shots Fired in Sixers' Locker Room as Tensions Heat Up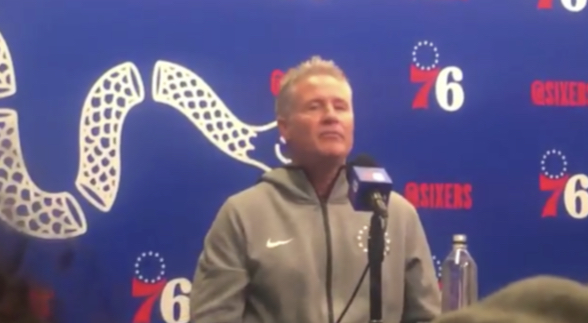 On Monday night, the Sixers took down the Oklahoma City Thunder in a 120-113 win at home. Joel Embiid dropped 18 points after dislocating his finger before halftime. He finished the game 2 assists and 1 rebound shy of a triple double. Josh Richardson also stepped up for the Sixers, scoring 23 points.
This win comes amid rising tensions in their locker room and increasingly loud cries by the fanbase to make moves before the trade deadline. The Sixers, with a 24-14 record, had lost 4 straight before Monday night, causing some panic.
Last Thursday, Joel Embiid gave comments to the media that slightly shook up the dynamic of his relationship with teammate Ben Simmons. Speaking to a Philly reporter, Embiid said, "…we've got to help each other even if it means being outside of your comfort zone for the greater good to help the team win. Meaning that, if you've got space to shoot it, you've got to do it," This has been interpreted as a shot (no pun intended) towards Simmons, whose lack of 3-point shooting has caused floor-spacing issues for the offense. At Tuesday's press conference, head coach Brett Brown addressed Simmons' shooting issue, saying he has "failed" as a coach.
Fans are looking for change in the organization, as the team has failed to meet the high expectations that were set for them. While some are calling for coaching changes, others want new player personnel. Specifically, the Sixers' trade targets will likely include some outside shooters in order to facilitate improved floor spacing. This reporter spoke with some students at Salesianum to get their takes on who the Sixers should target in trades. Bradley Richman expresses that he wants the Sixers to pursue a trade for Davis Bertans. Avid fan Dan Bransfield is hoping for the team to move Al Horford in a trade. Similarly, Jake Chevalier is lobbying for the Sixers to trade Furkan Korkmaz while keeping Ben Simmons.
Clearly, there are a lot of mixed wishes within the organization and fanbase. The team very well may see a coaching or personnel change in the near future. For now, fans have to wait and hope for tensions to ease and for the Sixers to remain on the right track.