The Nex Gen
2020s Kick Off Advancement in the Gaming World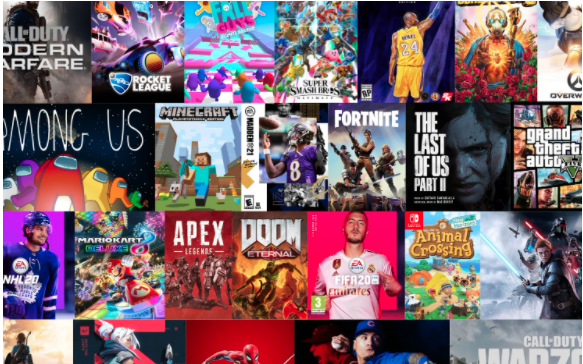 Sean Spych, Reporting Journalist
September 29, 2020
What are your top three favorite games of 2020?
Among Us (21%, 39 Votes)
Minecraft (14%, 26 Votes)
Call of Duty (12%, 22 Votes)
NBA 2K (8%, 14 Votes)
Madden (8%, 14 Votes)
Fortnite Battle Royale (7%, 12 Votes)
Tom Clancy's Rainbow Six Siege (5%, 9 Votes)
Super Smash Bros. Ultimate (5%, 9 Votes)
Animal Crossing: New Horizons (4%, 8 Votes)
Mario Kart (2%, 4 Votes)
FIFA (2%, 4 Votes)
Rocket League (2%, 4 Votes)
Doom Eternal (2%, 4 Votes)
Counter-Strike: Global Offensive (2%, 3 Votes)
Fall Guys: Ultimate Knockout (1%, 2 Votes)
Ghost of Tsushima (1%, 1 Votes)
Valorant (1%, 1 Votes)
MLB The Show (1%, 1 Votes)
Final Fantasy VII Remake (1%, 1 Votes)
NHL (1%, 1 Votes)
The Last of Us Part 2 (1%, 1 Votes)
Overwatch (1%, 1 Votes)
Player Unknown's Battlegrounds (1%, 1 Votes)
Total Voters: 73

Loading ...
After an excellent decade for gaming with revolutionary titles such as The Legend of Zelda: Breath of the Wild, Grand Theft Auto V, Dark Souls, The Witcher 3, Super Mario Galaxy 2, and many more, the 2020s began with another great year of games. As COVID influenced people to stay indoors, more and more picked up their controllers, booted up their PC, and turned on the consoles. 
With several new games out for 2020 and even more from years past, the question of "What should I play?" may perplex first-timers and even amateur gamers. Fear not though, as Salesianum's video game club is here to the rescue. 
Jake Okoniewski '21, a senior member of the club, spent his time during quarantine sinking his teeth into the best games. "To me, the top 3 games of 2020 would be Doom Eternal, Final Fantasy VII Remake, and Ghost of Tsushima," Okoniewski says. "Each of these games share a home in my heart. If it's the nostalgia of playing Final Fantasy, or listening to the amazing score by Mick Gordon in Doom, or learning about the Mongol invasion in Tsushima, all these games I would recommend to everyone, as they are extremely enjoyable to play." Okoniewski points out that the year is not finished, and mentions that he's excited for several upcoming titles. Of these, he notes Spider Man: Miles Morales, God of War: Ragnarok, and Cyberpunk: 2077 to be his most anticipated games. 
Edison Pard '21, another senior member of the video game club, has also been busy playing. Over the year, Pard recounts he's played several new titles, yet he keeps coming back to his favorite three. "For the games I've played the most this year, my answer would be Minecraft, Super Smash Bros. Ultimate, and Castle Crashers." When asked which was his favorite among the three, Pard mentions Minecraft, a game originally released in 2009. "It's a game I can play for hours without moving," he explains. "There is so much to do, even more so with friends." Pard argues that, despite the game's age and loss of popularity, it's still amazing even today. "I think too many people play it for a little bit then get bored because they don't think there's much there, but the infinite possibilities make every bit of time playing and building a world by yourself or with friends worth it and ultimately very fun."
Of course, while the video game club gave some excellent suggestions for both the casual and amateur gamer, we want to hear from the entire Salesianum community. What's your favorite game?