Xs & Os with Coach Dinardo
Breaking down this year's new offense and defense with Salesianum's football coach
Last Saturday, the Sals looked different. Despite a loss to Malvern Prep, both the offense and defense were adorned with new formations, playcalls, and positions. With a rough schedule ahead of him, Salesianum Head Coach Bill Dinardo had to get creative for the Sals to win this year. Wondering about all these new changes on both sides of the ball, we sat down with Coach Dinardo to break down this year's team.
Beginning with offense, Coach Dinardo states that Salesianum is implementing an exciting new system: the spread. Commonly used on most college and NFL teams, the spread offense involves receivers being spaced 4-7 yards apart on the line of scrimmage. By spacing recievers out like this, spread offenses are designed to "spread" the defense, forcing them to cover the entire field from sideline to sideline. With the defense strained, skilled offensive playmakers— WRs, QBs, and RBs— can truly wreak havoc. Big plays, more throws, and exciting action can be expected. "Our offensive philosophy has always been to use our talent the best way possible," Coach Dinardo states. "We believe our QB and receivers are our best playmakers, so this shift to the spread makes sense."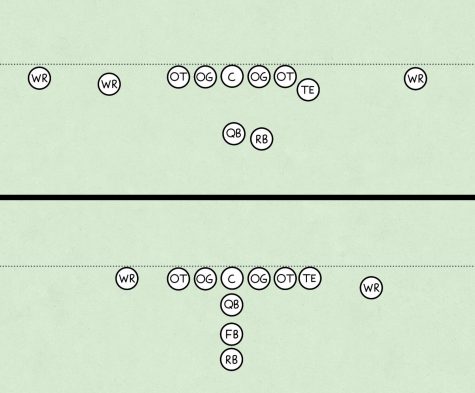 When asked about who these skilled playmakers were, Coach Dinardo mentioned several names. Quarterback Dylan Mooney '21, Coach mentions, is looking to capitalize on his  performance as last year's starter. "Dylan has the arm to throw the ball downfield. He has a quick release for the short game and the strength for the long ball. I'm confident in his ability to succeed." 
On the receiving end of things, Coach Dinardo is excited for such a skilled group of pass-catchers. "Evan Lowe, Rasheen Caulk, James Yelbert, Jaiden Mason, and Owen Lubin give us a deadly outside threat." Coach states. "In the slot, Joey Montooth is a multi-talented guy who is a great receiver, run threat, and blocker all in one." 
Looking to yet again capitalize on the roster's talent, Salesianum is also implementing a new defensive position: the spur. "Once again our defense is based around the talent that we have." explained Coach. "We felt that with 4 outstanding defensive Linemen, our defense would be best with a 4-front. We also think that having 5 defensive backs on the field will help us better defend against the many spread offenses we're planning to face this year. Our spur, who is a hybrid defensive back and LB, gives us an extra pass defender and provides strong run support." 
A "jack of all trades" position, the spur serves multiple rolls on the defense. "In the run game, the spur acts like an outside LB. He gives us edge pressure, and contains the run on the outside," Coach Dinardo states. "He also shares duties as a flat defender, and sometimes rotates into a free safety position." Indeed, with the flexibility that the spur provides, the Sals' defense is looking to shut down opponents in the run and passing games.

Despite an opening loss to the season, Coach Dinardo is confident that the Sals can bounce back, improve, and head down the road to victory.