Sallies Crossword #3 (Contest Puzzle!)
This week's puzzle is a little different: our first Crossword Puzzle Contest!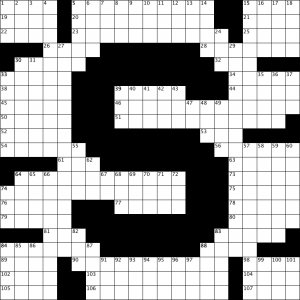 Rules:
Submit your completed puzzle / time to Mr. O'Brien ([email protected]), or to the Salesianum Review Instagram account (@thesalesianumreview) by 8 pm on Wednesday March 17.The fastest time will win a School Store gift card for $20.
But the contest doesn't end there!
This puzzle has a "meta" answer—a secret message hidden in the finished grid. In this puzzle, there is a Salesian Phrase hidden inside of the four longest across answers (21-, 31-, 41-, and 53-Across), a phrase that should be familiar to all solvers. The phrase will be read in the order that the entries appear. If you find the hidden phrase, email Mr. O'Brien with your finished puzzle and the hidden phrase, as well as your House and Year of Graduation. All correct entrants will be put into a drawing to win an El Diablo gift card for $40!
Parents and alumni, feel free to send in your times (and/or the secret phrase!) as well, for a special shout out!
Happy solving!
Solution: