Track and Field Championship Preview
Looks like Salesianum is championship bound again this year, but this time, it's spring track and field. Salesianum has already won 2 championships this year in sports. They've won swimming and winter track and field. If Salesianum can win spring track and field that would be a clean sweep for them in the track portion of sports this year. But first, they have to win one more competition, the state championship and they just came off a great weekend at the county meet. Therefore, just to get a deeper look into how the athletes were feeling about going into states I interviewed two athletes from the team. First I interviewed Ethan Hinds, Class of 2021, and a high and long jumper and I asked him how he thought his season was going so far. He responded by saying "Pretty well, it's my first season so I am just getting used to everything but I think I'm doing pretty well so far." Ethan has had a very good season as he does qualify for states in both the high jump and long jump and I'm sure he will do great there as he's coming off a personal record. I also went to interview Michael Portale, Class of 2022, and he's a sprinter, and I asked him what is his motivation to run track. He answered by saying, "When I'm out there its only me, it's like I'm the only person who can change what I do, you know with a team sport you can worry about your teammates doing this or that, but on the track, it's fully what I can do and its the work I put in, myself, is what will drive me to that success." Michael has also had a great season and also qualified for states and set his personal record for the 100-meter dash this past weekend. Lastly, I asked both Ethan and Michael what it would mean if they won states this track and field season. Ethan responded by saying "It would feel amazing because in soccer and basketball I did not get one this year so I would love to help the team get one this year for track and field." Michael responded by saying "It would mean everything to me, I remember when I ran as a freshman coming in and barely scoring and just hoping one day while looking at the podium hoping to be on there, so if I could get on there at states it would mean the world to me this year." Both Ethan and Michael are looking forward to states and they want to win for the team. Considering they are both coming off a phenomenal season and county championship meet I can bet they will shine at states.
About the Writer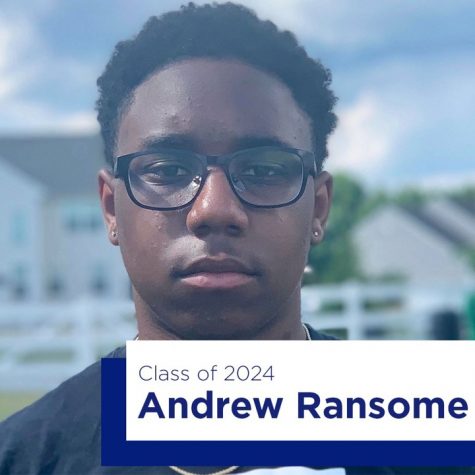 Andrew Ransome, Sports Journalist
Meet Andrew Ransome! Andrew is a freshman and a member of the class of 2024. He writes for the Review because he enjoys writing about the accomplishments...