Making History: An Interview with Mrs. Godfrey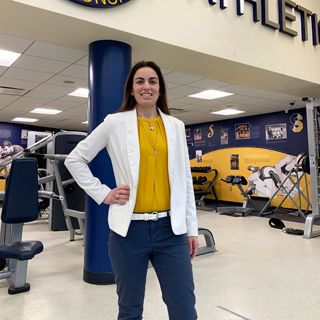 One of my favorite features of Salesianum is the sports program and its competitiveness. I played JV soccer this past fall, I am currently trying out for basketball, and I plan to join baseball this winter and spring. The person who is at every single game is Mrs. Godfrey, the recently-appointed athletic director. 
Mrs. Godfrey grew up in Wilmington and is the 5th of 6 children. All of her older siblings played sports, which is what truly got her into athletics. When she attended St. Ann's in grade school, she played volleyball, track, and basketball. She enjoyed playing basketball the most but as she moved into high school, she still participated in three sports, including volleyball, track, and basketball. The reason she loved sports while at Ursuline Academy was the competitive nature and the strong friendships she made from them. After highschool she went to Washington College in Chestertown Maryland where she played basketball and volleyball. 
After college, she moved back home and quickly applied for an opening in the mathematics department at Salesianum School. When growing up, all of her brothers attended Sallies and she told me she felt destined to work there. When she was offered the position, Sallies didn't originally give her a coaching role, but she ultimately taught all levels of sports throughout her career, from freshman level all the way to varsity. She additionally has taught Padua volleyball and basketball, Tower Hill volleyball, Ursuline basketball, and she also coached me at Salesianum basketball. After so many years of coaching at these many schools and ultimately Salesianum, she was appointed to the role of Athletic Director and has taken a break from teaching math, given the commitment of the position. This is a great accomplishment as she is the first female athletic director at the school. Mrs. Godfrey's commitment to our athletic program is evident as she has managed to successfully support all Salesianum sports and attend every game; even when there are two or three going on at once, she'll go to every single one. Given that she is a great coach and one of the kindest people here at Sallies, we couldn't have asked for a better director.