The Ben Simmons Saga
What is Happening to the Disgruntled Star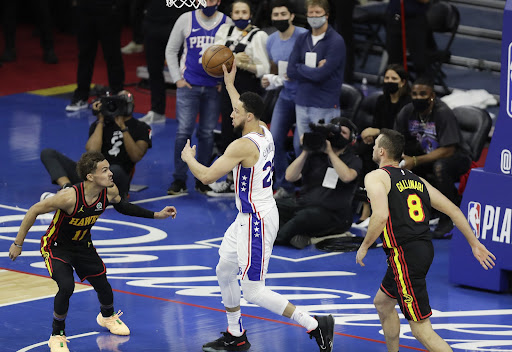 Does this sound familiar? The heavily favored Philadelphia 76ers are in game seven of the Eastern Conference Semifinals against the Atlanta Hawks, a team that most fans would agree the 76ers should beat handily. Yet here they are locked in close battle with their season on the line. The Sixers have blown multiple double-digit leads in the series, two historic collapses that can be erased with a win in game seven. 
This should not be a series, but three things have been holding the team back. The first is the torn meniscus of MVP runner-up Joel Embiid, who is playing hurt and not at 100%. Second is the multitude of questionable decisions Doc Rivers is making, keeping his bench players out too long and not giving his best players enough minutes. But perhaps the biggest and most glaring issue was the downright horrific play of 3x All Star Ben Simmons. One of the highest paid players in the league and the Defensive Player of the Year runner-up was shooting 34% from the free-throw line. 
Not only was that percentage the worst in playoff history and he was averaging less than ten points per game, but also he is the Sixers' point guard and he hasn't improved in shooting or scoring whatsoever in his NBA career. But that can all be erased with a win. Now with the picture painted comes the impetus for one of the biggest player holdout debacles in NBA history. Simmons has a wide open dunk with Trae Young, possibly the league's worst defender and the only person remotely close to him. If he dunks it, the Sixers tie the game, and it could shift the momentum of the game, a game in which Simmons has played terribly and shot horribly from the free-throw line. But, he makes the worst possible decision and passes the ball. The possession ends with only one point, courtesy of the foul shots Matisse Thybulle got after he received a ball that never should have gone to him. The Sixers go on to lose, Philadelphia has their scapegoat in Simmons, and chaos eventually ensues. 
Postgame, Joel Embiid and Head Coach Doc Rivers took subtle jabs at Simmons with Joel hinting at his disappointment with Ben, and Rivers flat out stating that he has no idea if Ben is part of this team contending in the future. Almost immediately following the season, Simmons and his agent demanded a trade and declared that Simmons will never play another game for the 76ers. After that, there was an exorbitant amount of discourse on how serious Ben was about holding out and about trade rumors. Eventually, 76ers players stated they would love to have Ben back, as they wanted the best chance to win and they believed Ben gave them that. However, as the season drew closer to opening night, it became more clear that Simmons would not be reporting back to Philadelphia to play for the team that gave him millions of dollars on a max contract. His teammates even tried to visit him in LA after repeatedly trying to get in contact with him. He refused to let them into his residence and completely ignored them, refusing to speak with the team. 
The Sixers made it clear that Simmons would not be paid if he refused to report to the team, yet Simmons held out and was withheld millions of dollars. After seeing the ramifications of holding out and seeing the money disappear from his bank account, Simmons had a change of heart and came back to Philadelphia. He came in a plane completely uninvited and with no warning, and just showed up during a preseason game in Philly to boot. 
Sixers' President of Basketball Operations, Daryl Morey, had called Ben's bluff by not paying him, and now a disgruntled and completely disinterested star showed up to the latter end of training camp. But the problem was that all he did was show up. He showed no effort, ran drills at half speed, wore street clothes, had his phone in his pocket, and didn't talk to a single soul in the facility. It reached a boiling point when Simmons refused to do a drill and Doc Rivers kicked Simmons out of practice and the team suspended and fined him. Then after the practice, Joel Embiid said, "I'm not here to babysit anyone, I don't care about it anymore, he can do what he wants."  This caused a media frenzy. 
Thankfully, the most recent news seems to be a step in the right direction. Simmons addressed the team and talked about accountability and his mental health issues. Teammates Joel Embiid and Tobias Harris publicly stated their support for Simmons during this process and are welcoming him back, while also urging the fans to do the same. However, there is an asterisk with Simmons sitting out for mental reasons. Simmons is physically healthy, so if he misses games he will lose money and be fined. But there is a rule in the NBA that if there are mental issues, players can sit out and still be paid. Mental health is a serious issue, so the intent for Simmons doing this is up for interpretation, but his problems can't be taken lightly. 
Asking out is uncommon for a player like Simmons. He has accomplishments, but hasn't improved or really been any good for the team when they need him. He has not played up to his contract, nor is he a superstar player. He's in a bad situation like James Harden, who forced his way out, but it was understandable. Simmons simply has no leverage or results to justify something like this. He's only 24, and he's doing something very bold and immature. Whether he plays, gets traded, or just sits out is anyone's guess. Daryl Morey stated that if they had to, they'd wait four years of Simmons not playing if it meant increasing championship odds. This saga seems far off, but whatever happens will be a rollercoaster ride that will go down in NBA folklore forever.