On the Road to Victory
The Eagles look to continue their winning streak against a depleted Saints team.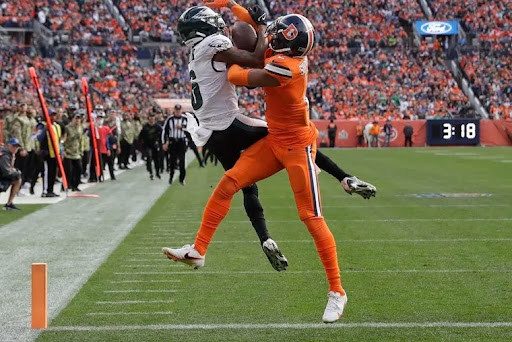 The Philadelphia Eagles defeated the Denver Broncos 30-13 this past Sunday. They look to continue that winning streak against a New Orleans Saints team that has lost its past two games. New Orleans is 5-4 on the season and the team looks to get star running back Alvin Kamara back from a knee injury. New Orleans will be without star wideout Michael Thomas, who hasn't played all season long due to an ankle injury. But, the biggest news for the Saints is at the quarterback position. The team lost quarterback Jameis Winston due to an ACL tear and some MCL damage. It's the next man up mentality for New Orleans as Trevor Siemian gets the start at quarterback.
Siemian has struggled throughout his time in the NFL but looks to change that with the Saints. The Eagles will need to apply pressure on Siemian. Unfortunately that is something that they've struggled to do all season long. The Eagles lost defensive end Brandon Graham earlier in the season and the pass rush hasn't been the same without him. The defense is allowing a league-high 75.5% completion percentage and opposing quarterbacks have approximately a 105 passer rating. The defense was better last week, holding Teddy Bridgewater and the Broncos to only ten points. But, they still allowed Bridgewater to complete 61.1 percent of his passes. That's not ideal, but it's a step in the right direction.
Most fans would agree that the Eagles have become arguably one of the best running teams in the NFL. They have one person to thank for that and that is Jordan Howard. Howard was a free-agent this offseason and was signed to the Eagles practice squad earlier in the season. He's become a workhorse for Philadelphia. The team ranks third in the NFL with Howard and company averaging 144.3 yards per game. In the last three games, the Eagles have averaged 208.7 yards in the last three games. The Eagles will look to get Miles Sanders back from injury this weekend against a Saints team that is great against the run. New Orleans has allowed just two 100-yard rushers in its last 69 games, so the Eagles will have their hands full. 
The Eagles will look to exploit the Saints weak pass defense, which ranks 26th in the league. The Eagles will need similar production from Devonta Smith, who had four receptions, 66 yards, and two touchdowns against the Broncos this past weekend. He'll have a difficult task coming up when he goes one-on-one with Marshon Lattimore. Lattimore is arguably one of the best corners in the league. Jalen Hurts will have to be on his game if he wants to exploit a struggling Saints secondary. We'll find out on Sunday if he can exploit that weakness.