Miguel Bezos, Father of the World's Richest Man, Reunites with his Salesian Brothers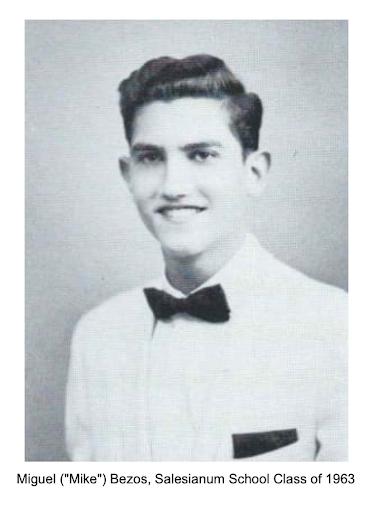 Miguel Bezos, a man who came from humble beginnings, reunites with his Salesian brothers after 50 years. On November 17th, Miguel Bezos, along with two other members of the Casa De Sales, recounted their time at Salesianum and Casa De Sales in the 1960's with the Salesianum community during the school wide assembly. For the first part of his life, Miguel lived in Cuba with his family. This all changed when Miguel was 16. After the Cuban Revolution, Fidel Castro took control, converting Cuba into a one-party socialist state, set up under the Communist Party. Soon after, Miguel was sent to the United States as a part of Operation Pedro Pan, an operation that would send over 14,000 Cuban children to the United States to escape Communist Cuba.
     He came to the United States speaking little English. He was sent to live at Casa De Sales, along with 21 other teenagers who were a part of Operation Pedro Pan. It was at Casa de Sales that Miguel met Father Byrne, an Obate who was sent to live with them after less than a week's notice. Father Byrne taught Spanish prior to living at Casa De Sales, and lived with the boys at Casa De Sales throughout their time at Salesianum. Miguel, along with the other boys from Casa De Sales attended Salesianum, where Miguel later graduated from in 1963. Five years later, he married Jacklyn Bezos, a single mother to Jeff, a boy who would one day be the richest man in the world. Miguel then graduated from the University of Albuquerque, and became an engineer.
     Today, Miguel and Jacklyn donated $12 million in scholarships to Salesianum for underprivileged kids. The scholarship is named for Father Byrne, who passed on March 20th, of 2020. This donation is the second largest donation in the school's 118 year history. Miguel along with the other members of Casa De Sales came from the most unlikely of beginnings, many speaking little to no English, but even after 50 years, they have still found their way back to their home at Salesianum.