The Story Of The Atlanta Braves Cinderella World Series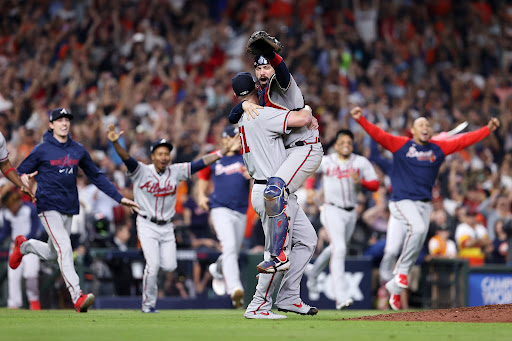 The Atlanta Braves are on top of the baseball world for the first time since 1995.  Many fans doubted that they could get there without their superstar right fielder Ronald Acuna Jr, yet here they are. How did they even get here? They were a .500 team at the All-star break. Well, it was a combination of savvy trades, mid-season adjustments, players getting hot at the right time, and pearl necklaces. 
Midway through the season, all seemed lost after Ronald Acuna Jr tore his ACL trying to catch a fly ball on the warning track. On top of that, pitcher Mike Soroka had his season ended early due to injury, and emerging star Marcell Ozuna had his season ended due to a domestic abuse case. But, in an NL East division that was tripping over itself, there was a very real shot at the division, and the Braves just needed a jolt. What might go down as the greatest trade deadline for an MLB team, the Atlanta Braves were able to acquire players that would play a massive role in bringing home the commissioner's trophy. They acquired outfielders Jorge Soler, Eddie Rosario, Adam Duvall, and Joc Pederson. In retrospect, these may be some of the greatest fleeces in MLB history. They didn't give up a single valuable prospect or player, getting pivotal contributors for a World Series team for virtually nothing. Even crazier is the fact that Eddie Rosario and Jorge Soler won NLCS and World Series MVP respectively, and they were acquired for a pittance. Joc Pederson became a legend in Atlanta for being incredibly raucous in his play, hitting huge, clutch home runs in the playoffs. He was nicknamed "Joctober" for his postseason heroics, and made the entire city of Atlanta fawn over the pearl necklace he'd wear. But let's not forget those longtime Braves. 
There's no questioning the talent in Atlanta's infield which consists of Atlanta's long standing face of the franchise, Freddie Freeman, Ozzie Albies, Dansby Swanson, and breakout star Austin Riley. Each of them swatted 20+ home runs in the regular season, and with their stellar defense and timely hitting, were able to be the force that truly made this team complete. The pitching staff was the biggest worry coming into the playoffs, but they got hot at the right time. Starting pitchers Charlie Morton, Max Fried and Ian Anderson gave the team incredible, dominant outings. Then to round out the pitching staff were the dominant bullpen arms of Tyler Matzek and Will Smith, who were historically dominant in the playoffs. With all of this talent, the Braves were able to topple the Milwaukee Brewers, Los Angeles Dodgers, and Houston Astros en route to a storybook championship. When everything seemed lost, this team rallied together and won it all, with every teammate contributing in some way. This team was truly no better than the sum of its parts. It's a feel good story that should serve to show that anything is possible in this great game of baseball.