Here They Come
James Harden is officially a Philadelphia 76er.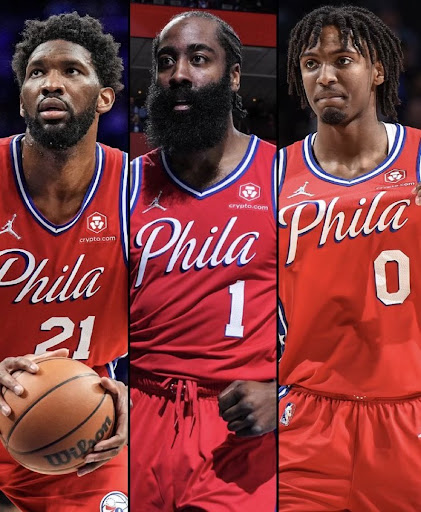 James Harden is Philadelphia 76er and Ben Simmons is a Brooklyn Net. It still doesn't feel real. We were talking about acquiring role players and draft picks, or just holding out until the end of the year as solutions for the Ben Simmons drama. But now, Philly has acquired a top 15 NBA talent for a package that centered around a player who can't/won't shoot and hasn't been playing for almost a year. President of Basketball Operations Daryl Morey turned a dire and negative situation into one that gave MVP front runner Joel Embiid the best teammate he has ever had. James Harden wanted out of Brooklyn and Ben Simmons wanted out of Philly. And, as of now, this seems to be a trade that raises the Sixers championship chances significantly. The details of the trade are as follows:
Nets receive: 
Ben Simmons 

Seth Curry

Andre Drummond 

Two 1st round picks
76ers receive:
Many fans would agree that the Sixers undoubtedly improved after this trade and got the better player. For those saying that the Sixers gave up too much, Philly got a monumental upgrade at shooting guard, taking the place of Seth Curry. Harden is arguably the most talented player Embiid has played with, and Harden's playmaking and scoring will take a load of work off Embiid. The Sixers lost some depth in Andre Drummond but recently picked up Deandre Jordan. Charles Bassey and Paul Millsap could also fill the void left by Drummond.
Now back to the Nets. Seth Curry is a skilled sharpshooter and will definitely help the Nets, especially because Joe Harris is injured. Andre Drummond gives them the size and rebounding they lacked. Ben Simmons could complement Kyrie Irving and Kevin Durant well and give them the defensive presence they desperately need. Many people will tell you it's a win-win trade. If Ben Simmons comes back and plays his role well, yes, it's a win-win, but if his crippling offensive shortcomings hurt the Nets, then the trade will look really good for Daryl Morey.
The Nets have been struggling recently. However, they are difficult to gauge due to the inconsistent availability of their players, so the outcome and fit of the trade remains to be seen. For the Sixers, Harden's fit with the team has been seamless and magical. The pick-and-rolls between James Harden and Joel Embiid have been even better than advertised. Harden's presence hasn't hampered Embiid's dominance one bit. Harden had been elevating his team, aside from the shaky play of Tobias Harris, which will hopefully be ironed out over time and practice. Just the sheer threat of James Harden as a scorer and playmaker has completely opened up the floor and improved the games of the two young rising talents in the starting lineup.
Philadelphia's young defensive star, Matisse Thybulle, is arguably the best perimeter defender in the league. Thybulle is extremely skilled when it comes to breaking barriers, deflections, steals and blocks. With the injury of Danny Green, Thybulle will be getting even more minutes then he did in the past. But there is a glaring weakness in his game, which is his offense. His shooting is shaky and can be good at times, but can't usually be relied on, and he is in no way a good ball handler. His cutting and rim running capabilities were always above average, but combined with Harden's gravity and playmaking, they are being fully utilized. With Harden, the Sixers can finally mask Matisse's weaknesses and utilize the elite parts of his game.
And, finally, there is the sophomore point guard Tyrese Maxey. Even before Harden, Maxey has shown flashes of all-star potential. He stepped into the starting lineup as a sophomore who came off the bench in his rookie year and since then has shown uncanny poise and promise as a key franchise player. He has shown staggering improvement in every aspect of his game. His shooting, decision making, finishing, playmaking and defense have all had a massive jump. But that was pre-Harden, and now with a truly elite backcourt running mate, Maxey is starting to truly display his talents and emerging as an elite player. The trio of Embiid, Harden and Maxey have scored more points than any other trio in their first five games in NBA history. They are putting up astounding offensive numbers and have completely exceeded expectations in their short sample size. This is all while retaining a very respectful defense headed by an elite rim protector in Embiid, and elite lockdown perimeter defense in Thybulle. With an elite big three in Embiid, Harden, and Maxey who each score 20+ points per game, talented players like Tobias Harris and Matisse Thybulle, and solid role players like Georges Niang, Danny Green, and Shake Milton, the Sixers look better than they ever have. They seem to be more talented than ever, and are primed to make a run at a title, but it won't be easy in a stacked Eastern Conference. It's a sprint to the end, and this season is kicking into overdrive as fans are embracing the new additions and preparing for the ensuing playoff run.