Phillie Power
Can The Phillies Finally End Their Playoff Drought in 2022?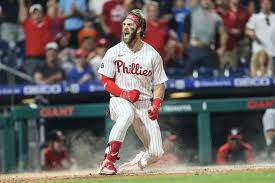 It is no secret that the city of Philadelphia is craving playoff baseball. For the past decade, the Phillies fan base has been deprived of consistent winning and fun baseball. Now, this team has a true identity, which includes hitting many glorious home runs without paying too much attention to the defensive side of baseball. This team has a lot of potential and will most definitely be fun to watch.
The rotation for the Phillies is extremely solid and has potential to be one of the best in baseball. The rotation is headed by the former CY Young candidate Zack Wheeler and Aaron Nola. Wheeler is considered a true ace while Nola is coming off a down year, but is still one of the premier strikeout pitchers in the league. Nola needs to reduce the amount of home runs he gives up and needs to finish off innings without collapsing like he did last year. Zach Eflin and Kyle Gibson are very solid rotation pieces, and can give you extremely solid innings consistently. Then there is Ranger Suarez. Suarez came off a surprise breakout season in 2021 and put up historic numbers. If he can continue the torrent pace that he was on last year, he could possibly emerge as a truly elite pitcher in the league.
As always, the Phillies bullpen is one of the biggest question marks. The team signed some bullpen arms, such as Brad Hand, Jeurys Famalia, and Corey Knebel. Many fans would agree that the players the team signed have a very high upside, but are extremely inconsistent at times. However, it really can't get much worse than last year, where the Phillies broke the MLB record for blown saves. Returning guys like Bailey Falter and Seranthony Dominguez should give them a boost. A lot of this team's success this year will hinge on the ability to close games. Especially when it comes to the offensive talent and the team's poor defense, the final result of the ballgame should hinge on the bullpen's ability to close out games.
But the heart of this team lies in their offense. The moves in the offseason started with signing depth pieces like Odubel Herrera and Johan Camargo. Then the Phillies swung at big key free agents. Philly signed slugger Kyle Schwarber to a four-year deal. Schwarber has a sky high ceiling and is considered by many to be one of the better power hitters in this league. Then the bombshell signing of Nick Castellanos was announced. This is another guy who absolutely rakes and can give you consistent all-star level production. But the biggest aspect of it was that it was the first time in franchise history that the Phillies went over the MLB's luxury tax, which is a cap on salary that taxes the teams salary once maximum salary allowed is reached. This signals the Phillies are really going all in to capitalize on the primes of Bryce Harper and Zack Wheeler, which is something that fans have been clamoring for. On top of all of that, the Phillies have prospects and young guns looking to make a real impact. Bryson Stott has had a meteoric rise through the ranks in the minors and continues to flash insane star level potential and is looking to usurp the struggling Alec Bohm's spot on the team.
At catcher you have JT Realmuto, who is a perennial All-Star that may very well be the best catcher in the game. At first base is Rhys Hoskins, a player that has the potential to mash around 30 home runs in a full season. At second base is Jean Segura, who usually has one of the better batting averages in the league, and can get on base consistently. On the left side of the infield you have Didi Gregorious at shortstop, and either Bryson Stott, Johan Comargo, or Alec Bohm at third base. Stott and Bohm are young players with very high upside and Comargo is a solid veteran, so it will be interesting to see who earns the job. Then there's the outfield, headlined by reigning MVP Bryce Harper. Harper is a flat out superstar and is looking to have another stellar season. However, centerfield is a mystery. The job could go to Matt Vierling, Mickey Moniak, or Odubel Herrera. It looks as though it will be a platoon in center field, with players being swapped and changed on a nightly basis depending on the matchup. In left field, we will likely see Kyle Schwarber or Nick Castellanos. This team has a ton of candidates for the designated hitter position due to a lack of good defenders. Schwarber or Castellanos will likely DH most of the time, with other players swapping into the role at times. Rhys Hoskins will likely get significant time as the DH, with other players being swapped in to give them a form of rest and load management. 
The Phillies seem to be going all in for a playoff push that is long overdue and they should be extremely fun to watch, but they will definitely have a few issues with defense and bullpen stability. However, one thing is for sure: the city of Philadelphia can look forward to majestic moonshots into the Philadelphia sky for a very long time.