An Aggressive Retool
The Philadelphia Eagles selected Jordan Davis and acquired A.J Brown on Thursday night.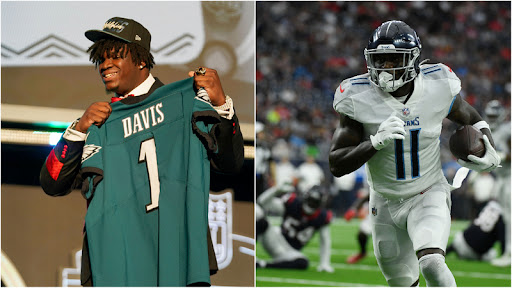 The Philadelphia Eagles were very busy during the first night of the NFL draft and stole the show entirely on a very busy night with many moving pieces. The Eagles began by moving up two spots to draft elite Georgia defensive tackle Jordan Davis. Davis will be the heir apparent to Fletcher Cox and is projected to be the future leader of the Eagles defensive line. This is a great pick which solidifies the future of the team and bodes well with the Eagles great track record of success in developing d-line talent.
The big blockbuster trade of the night was the Eagles shocking acquisition of star wide receiver A.J. Brown. The Eagles traded the 18th overall pick (which turned into WR Treylon Burks) and a third round pick for Brown. Brown wanted out of Tennessee after a contract dispute, feeling he was not getting offered enough money for his services when other similarly talented wide receivers were getting paid in droves. The Eagles obliged to Brown's contract wishes, signing him to a four-year $100 million contract with $57 million guaranteed. The addition of Brown leaves Jalen Hurts with all the weapons he could need to succeed and solidify a future in which he is the Eagle's franchise quarterback. DeVonta Smith, Dallas Goedert, A.J Brown, and Miles Sanders will benefit greatly from the amount of attention that will be spread out among the elite position players. This Eagles team could be truly elite and dynamic on both sides of the ball. The key to unlocking that elite potential is the play of QB Jalen Hurts and the development of the young playmakers on the defensive side of the ball. The Eagles have just gotten a lot better and are very close to emerging from a quick rebuild into true contention.