2017 Salesianum Baseball Preview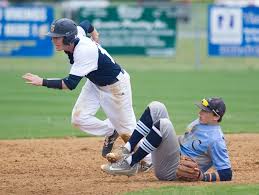 After last year's surprise loss to Cape Henlopen, the Salesianum baseball team, lead by Head Coach Ted Godfrey, looks to set their sights on their first state championship since 2008. However, they will have some big holes to fill in their pitching staff with the losses of Nolan O'Neil, Nick Robino, and Andrew Sullivan. The combination of the three pitchers made up the starting rotation for Salesianum last year with Andrew Sullivan also serving as the team's closer. Looking to fill these spots is Saint Joseph's commit Jackson Fiala and juniors Ryan Campbell and Zachary Gwynn. Some other spots that will need to be filled this season are at first, second, and third base and in left and right field due to the graduation of Beck Million, Joey Cautillo, Daniel Mersman, Christopher Hammond, and Dante Cautillo. Returning starters for Salesianum are seniors John Andreoli at shortstop and Zack Miller behind the plate at catchers along with junior Josh Maguire who played a mix between outfield, infield, and EH. The baseball program will also have some new faces coaching within the program as well this year. Some of the new editions being Mr. McConaghy of the Social Studies department and Mr. Lynn of the IT department. With all of these changes Sals Baseball hopes to finally capture their first state title in 9 years.
The Schedule for the team is very similar as it has been the past three years. As has been the tradition for the past 3 seasons the team will open up its campaign in a scrimmage against Milford High School. Then they will change things up by traveling down to Maryland for 2 scrimmages, against the Loyola-Blakefield School and the John Carroll School, instead of making the usual trip to New York. They will still play Mount Saint Michael's Academy but on home turf instead. The team will have three opportunities to play at Frawley Stadium this season, two of which are against arch-rival Saint Mark's and one against Sussex Tech. All in all though Salesianum should match up well against their instate opponents this year.
The team, just like every year, has set some lofty goals for itself. They are hopeful to be the ones who are dog piling on the infield of Frawley Stadium on June 3rd. The team has a long way to go until then though. Tryouts for the team begin on March 1st. The team's first official game is not until March 25th when they take on Mount Pleasant at Mount Pleasant High School. The team has been preparing in the weight room since the beginning of the school year and have been hitting the batting cages since early November in order to prepare for the season. While there are many questions as to who will fill the spots left by last year's senior, one thing is for certain and that is this team wants to win. Hopefully the team can bring home a state championship and end their drought. Good luck to the baseball team this season.