SST's British Invasion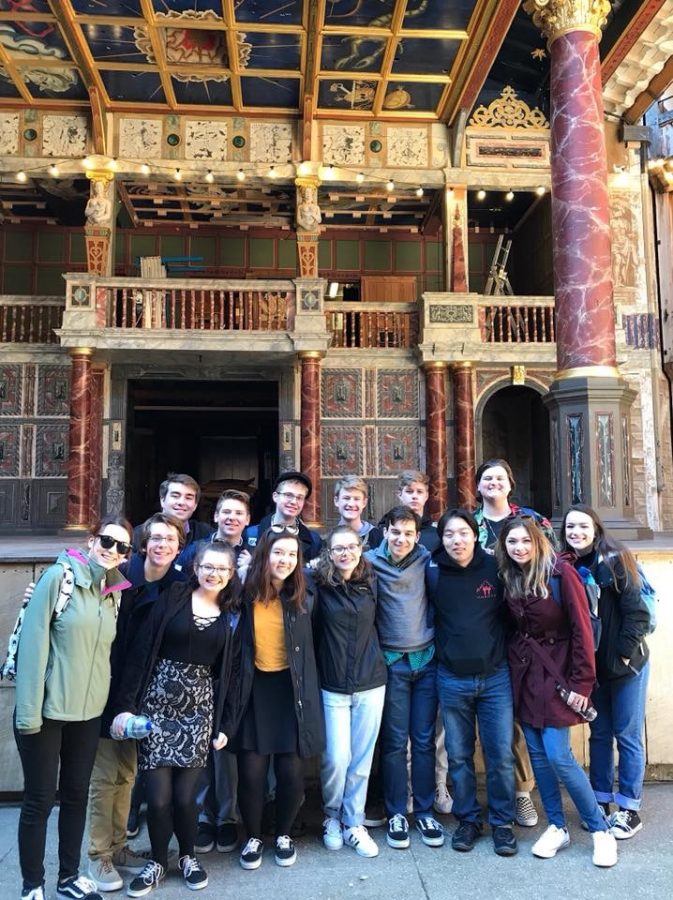 Owen Fink '18, Editor
April 12, 2018
Many would think that after a long, tiring run of Les Misérables, the cast and crew would enjoy a relaxing Spring Break. Given the strain of tech week and long, full-day weekend practices, a week off to rest seemed perfectly reasonable. But a down-tempo break wasn't in store for the valiant Salesianum School Theater members. They packed their bags, flew across the pond, and embarked on a journey like no other, seeing plays, attending improv workshops, and exploring the city of London.
To begin their excursion, the group arrived in England's capital city on Tuesday morning. After a six and a half-hour flight, SST enjoyed a relaxing day with a walking tour of Central London — the heart of the city.
Following a long rest to recover from jetlag, Wednesday found the group on a bus tour of the rest of the city, including sites like St. Paul's Cathedral, Parliament, Westminster Abbey, and the famous Big Ben, which unfortunately was encapsulated by scaffolding at the time. Later that evening, the crew attended their first production of the week, titled "Woman in Black," a horror which Mr. Bogad called "terrifying" and "a really good show."
Thursday brought with it one of the most exciting days for much of the group. A tour of the Globe theater and a Shakespearean workshop delighted the Sals crew, who were all SST members save for two band instrumentalists. However, the life's work of Shakespeare wasn't the only thing to occupy the traveling troupe's day; they got to visit an actors' club for an improvisation workshop. To conclude the night, the gang attended a musical familiar to many: "Kinky Boots." Reflecting on his day, Quinn Murphy '19 said, "The workshop left me thinking differently about Shakespearean theater."
On Friday the group continued their study of Shakespeare's life, with a tour of Stratford to see the Bard's birthplace, the church where he was buried, and enjoy a leisurely stroll around the town. Friday night was the eve of the third show that SST got to see, a musical titled "Bat Out Of Hell."
Saturday was the final day for the Sals' British invasion, and they were determined to make it their best. They saw the Tower of London, the majestic London Bridge, and then crossed the bridge to East London and Camden. To Mr. Bogad, Camden was a "cool-artsy-edgy-punk-kind of area." Saturday night saw what was arguably SST's most entertaining evening out, with the trip coming to a head performing karaoke in a small restaurant. Christian Buonadonna '18 reminisced fondly on the crew's performances: "We sang mostly '80s music. It was a really fun time. Mr. Bogad even sang a Bruce Springsteen song." After a jam-packed week across the pond, Sals Theater flew back to the states Sunday night filled with great memories, good cheer, and plenty of tools and tips for new acting techniques for future productions.