Flying High at Mile High: Soccer Team Kicks Off with a Great Trip to Denver
With the start of a new year, a new group of Salesian athletes take to the pitch in the gold and white pursuing one thing and one thing only: national glory. The Sallies Soccer team looked to do just that as they took a trip to Denver, Colorado to play Aurora Central and Cherry Creek High Schools.  "We were definitely looking forward to it," junior Will Mahoney remarked about the trip. "Our first game was a good one against Lancaster, but we knew we would have two tough games. They were a little closer than we would have liked but we were able to pull through and gain four tough points." Sallies took the first match against Aurora 3-0 and won against Cherry Creek 1-0 on a goal scored by senior Colton Steele in OT. Junior Callaghan Walsh recalls, "Five minutes into the second game, all of our mouths became super dry because of the heat, so it was tough to battle that. They were a good team; they pressed really hard, so we were just trying to keep the ball and tire them out. We got some shots off, but the second half, we began to play more direct. We just kept pushing until the final whistle. It was all the offense; they played great."
This trip was about a lot more for the team than just winning, however. As Mahoney said, "Going into the trip, we knew we needed to improve our attacking and scoring. We wanted to improve as much as we could on that end so we could be in a position to keep winning, so going out there and getting a bunch of goals against those teams really helped our confidence and it helped us prove ourselves as one of the best teams in the country." Walsh remembers the off time the team spent, recounting, "We got to go to the Red Rock Amphitheater, which was really tough, we went hiking which was hype, and just being in Colorado was really fun." He continues, "Going into the season, we all had the same mindset: we wanted to be the best team in the country. I think we bonded after the trip. The second game showed us we had work to do and we always have a target on our back, so we need to work and be the best team we can be on the field and off."
Overall, this trip was a great experience for the team, according to senior Max Lebbern. "These wins definitely give us a good confidence and momentum to move forward. For me, we can beat any team, and carrying that through the season will help us." It looks like no one can stop Sallies now!
About the Contributor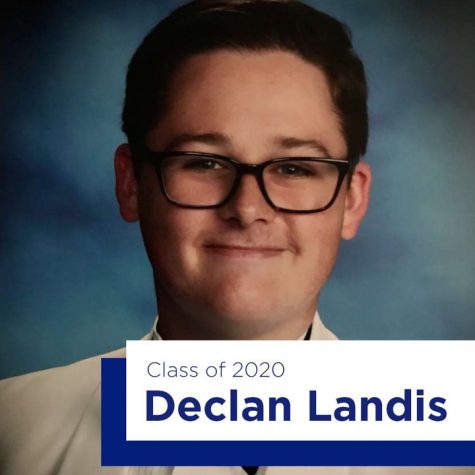 Declan Landis
Meet Declan Landis! Declan is a writer and editor for the Salesian Scoop section of the Salesianum Review and the Student Council President of Salesianum....